Rubellite
With its pretty hue drawing on pink or red depending on the gems, the rubellite is prized for creating exceptional creations. It sublimates any necklace, bracelet or earrings while soothing the feelings of the wearer, if you believe in the power of stones.
Rubellite: general data
Rubellite is a variety of tourmaline that can draw towards red, orange, pink or even purple. Its name says it all. It comes from Latin and means "reddish". Rubellite is sometimes also called pink tourmaline.
The properties of this exceptional mineral make it an excellent stone to mount in jewelry and leave plenty of room for imagination to design a unique necklace, bracelet or earrings. Before making your choice, find out everything there is to know about the semi-precious stone that is rubellite.
Rubellite: a tourmaline like no other
Rubellite is a variety of stone from the large family of tourmaline gemstones. Rubellite is classified among the minerals of the category of complex silicates, in other words minerals which are composed of silicon dioxide and metal oxides in various proportions. In rubellite, what gives it this color tending towards red or pink is its high concentration of aluminium and iron.
These characteristics make rubellite the most coveted tourmaline stone in the world. Some copies even have a garnet red color very similar to ruby and sapphire. To recognize a real rubellite, you have to equip yourself with 10x microscopes. Indeed, it is the presence of oxides in the composition of the mineral that determines the authenticity of the stone. However, these "impurities" are not visible to the naked eye. Otherwise, it is a lower quality specimen.
This composition makes rubellite a mineral with a hardness of 7 or 7.5 on the Mohns scale. This scale classifies all crystals according to their hardness (or their ability to scratch other minerals). As a guide, the diamond is the hardest stone that exists and has a hardness level 10 on the Mohns scale. Thus, the rubellite is robust enough to lend itself successfully to work in jewelry. It can indeed resist the various treatments required to transform a rough stone into a jewel, such as polishing. Thus, the rubellite can be shaped and polished in order to obtain a tint more similar to the purple of the ruby or the garnet of the sapphire. Its great hardness allows jewelers to give it the oval shape of a real gem. It can be fitted perfectly in rings or earrings of the type «drops of water», in pear-shaped pendant or can become a very aesthetic cabochon.
Fine or semi-precious stone, there are many varieties of rubellites around the world. Their designation depends on their origin and the clarity of their red in the light:
Brazil rubellite, dark red, bringing it closer to sapphire and ruby;
Nigerian rubellite, drawing on bright pink;
very deep garnet;
Cat-eye rubellite, with natural stripes;
Shimoyo cat eye rubellite, a darker red gem;
Shimoyo AAA rubellite, very similar to rubies, can have internal facets close to the most beautiful gems;
The darker Cruzeiro AAA rubellite is still a semi-precious stone variety that looks like a ruby.The best rubellite mining areas are in Mozambique, Nigeria, Madagascar, Afghanistan and Sri Lanka. Crystals from Afghanistan, Angola, India, Russia and Tanzania are highly prized. The distance to the areas of origin of these crystals explains the difficulty of building up large stocks, and by extension, the high price of precious stones of rubellite.
How much does a rubellite cost?
The price of a mineral is calculated according to its size and weight. The price of a rubellite gem varies according to the specimen, depending on whether it is most similar to the ruby.
Thus, for a very beautiful stone of about 10 carats, it is possible to have to spend nearly 7,000 €. Sometimes, a carat exchanges a hundred euros, less in the case of a lower quality copy.
What are the virtues of a rubellite?
wisdom par excellence. It therefore acts powerfully on the emotions of its wearer, annihilating the old sentimental schemes obsolete and painful.
Wearing a rubellite is getting rid of its old emotional clutter, which prevents it from moving forward and flourishing. Freed, the wearer of a jewel in rubellite can thus become who he or she really is. It thus delivers parasitic and negative thoughts about oneself and, combined with black tourmaline, it reduces obsessive attitudes and puts an end to chronic anxiety. Stone par excellence of Universal Love, it frees its bearer from the anxieties of love and accompanies it in the construction of healthy and genuine relationships.
Closely linked to maternal unconditional love because of its hues and its association with the heart chakra, rubellite is a powerful ally in solving problems with women belonging to the maternal filiation of a family. It reconnects the heart chakra to the coronal chakra, which is the receptacle of universal love and wisdom: its wearer feeds on it, multiplies its power, vitality and energy.
By extension, rubellite soothes sleep disorders, especially in young children, and hyperactivity. Stone of universal and maternal love, red rubellite crystals are perfect for children who have difficulty finding their place in a family. Attention, in the young public the wearing of a stone must be accompanied by precautions of uses, because of the risk of choking. Replenishing, we lend it anti-aging virtues for the skin of the face, it restores a normal heart rhythm and soothes the throat. In mythology, rubellite has been associated since ancient times with the beverage of immortality and ambrosia, and alchemists consider it to be the very essence of plant life.
For all these reasons, rubellite is considered the stone that best corresponds to the signs of Cancers, Sagittarius and Capricorn. In lithotherapy, it is often advisable to combine the benefits of a rubellite with the virtues of lapis lazuri larimar or a tiger eye in onyx. Aesthetically, the combination of these various stones turned into pearls on a bracelet or necklace is an excellent choice.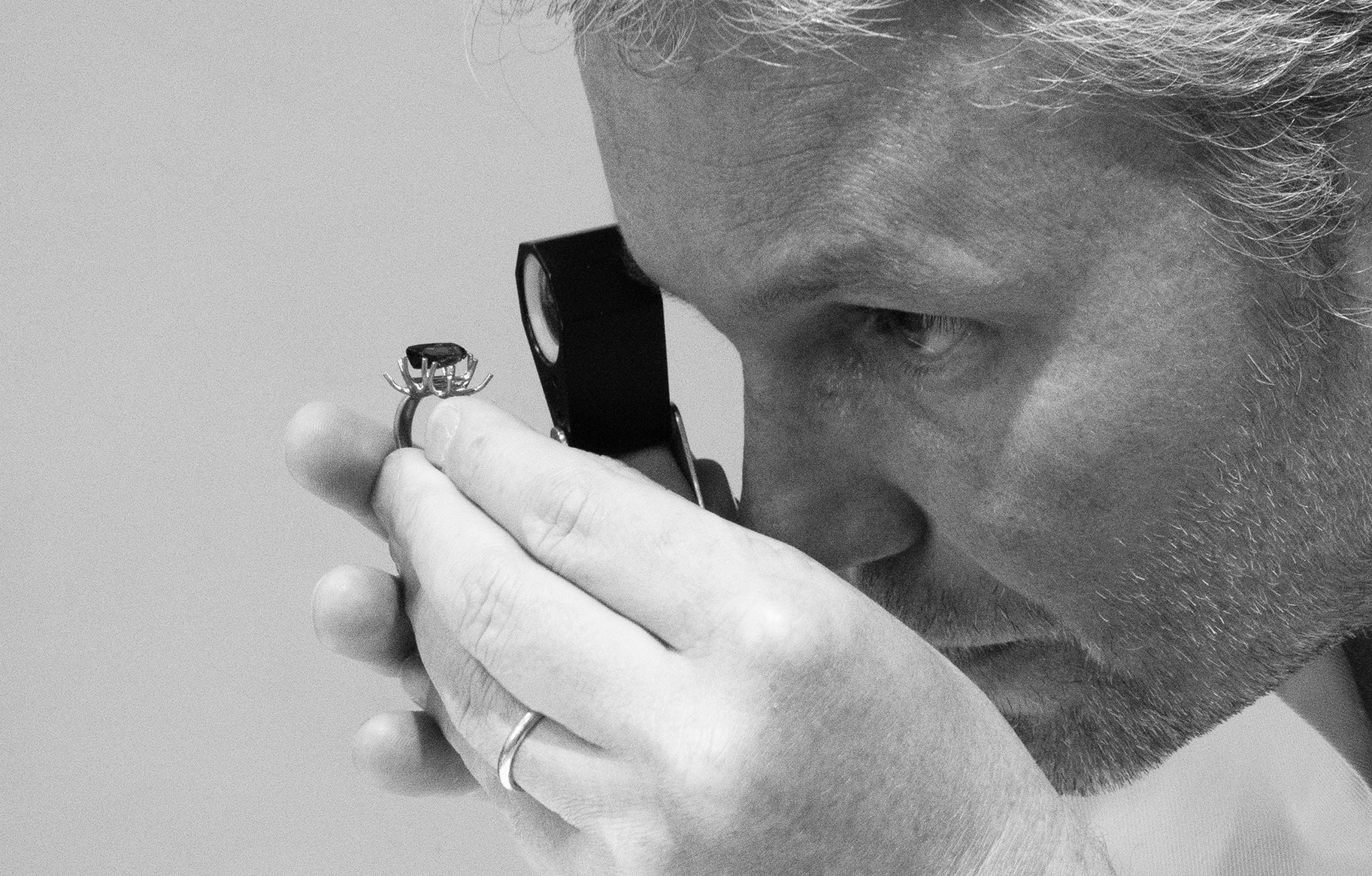 Rubellite: maintenance, cleaning and care
To preserve your jewel of rubellite, remember to keep it in a closed box protected from the heat, humidity and sun, which can alter the shine of the stone. Also make sure to place the jewel or earrings alone in their box. Indeed, the high hardness of the rubellite presents risks, if the jewel is placed with stones of lesser strength. It can damage them by scratching them permanently. Conversely, do not store your rubellite in a box / container with a harder jewel or mineral, such as a diamond, at the risk of seeing your rubellite permanently scratched.
It is recommended to clean your rubellite stone with a soft cloth with warm water. To degrease it, it is possible to use a few drops of dishwashing liquid, but be careful to remain parsimonious.
In lithotherapy, it is advisable to recharge the rubellite regularly by placing it in sunlight on a quartz cluster.
Rubellite, as a first-choice tourmaline, is offered in particular on the occasion of an 8th wedding anniversary. Contact BenGems to get jewels in rubellite gemstone, which can be custom / tailor made.
Discover our others precious stones