Jewelry creation tailor-made
Jewelry creation tailor-made
Create a jewel according to your desires from your old jewels or just from your
imagination. This is one of the services you can get at BenGems', a company
devoted to jewelry developed by its founder Benjamin Mizrahi.
Trained as a gemmologist and passionate about jewelry and precious stones, he is devoted to his clients to meet their expectations and produce unique and tailor-made jewelry (ring; earrings; pendant; bracelet.
Come and live a fully personalized experience by creating a unique jewel that reflects your history and desires.
THE DIFFERENT STAGES OF REALIZATION
Imagination and modelling
1-Make an appointment with Benjamin Mizrahi so that he can identify your project. He will ask you all the necessary questions to fully understand your needs, desires, expectations and personal history.
2- After establishing the specifications, we can start to imagine several models for the project in the form of sketches.
3- Imagination is the first step in creation. The designer is inspired by precious stones  from BenGems to let his creativity speak for itself by making drawings in gouache. Check out some of our jewelry designs below. The design selected from the sketch can then be modelled in 3D. This allows you to have an overview and to be able to visualize the jewel (earrings, bracelet, wedding ring, ring, necklace, pendant, etc.) from all its angles and in its real dimensions.
4- After obtaining the 3D modelling, we can proceed to the printing stage. To do this, the jeweller uses a specific wax that can be modelled by hand or using a 3D printer. This wax model will be used to make the mould.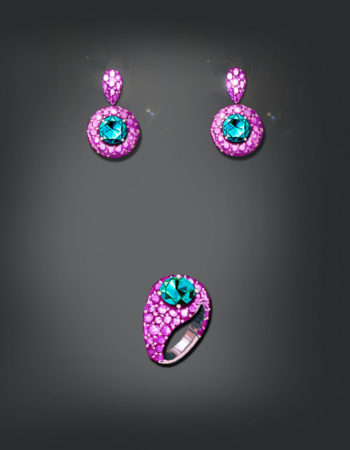 Parure
Boucles d'oreilles et bague serties de tourmalines bleues et de saphirs roses
See steps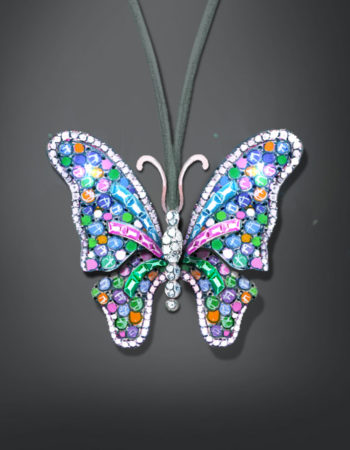 Butterfly pendant
18K pink and white gold pendant set with 10 baguette sapphires, 6 baguette tsavorites, 352 white diamonds, 274 multicolored sapphires and 64 tsavorites
See steps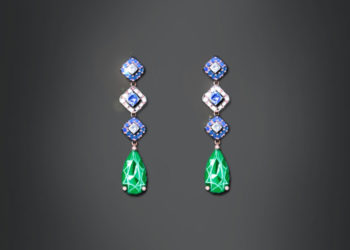 Emerald earrings
Rose gold earrings set with two pear cut emeralds, blue sapphires and white diamonds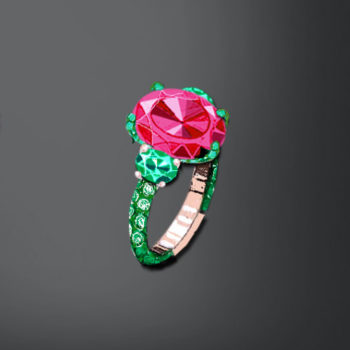 Spinel ring
Rose gold spinel ring set with tsavorite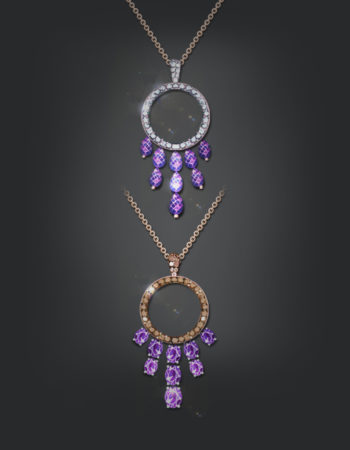 Briolette pendants
White gold amethyst pendant vs rose gold purple sapphire
See steps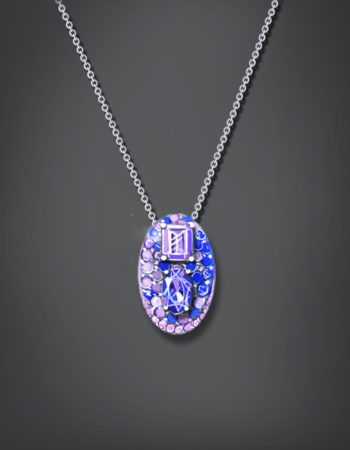 Sapphire pendant
White gold pendant set with one asscher cut mauve sapphire and one blue purple oval color change sapphire
See steps
THE DIFFERENT STAGES OF REALIZATION
Creation of a unique piece
5- Once the mold is made, comes the manufacturing step. The 18-karat gold is heated to high temperature to make it liquid and is poured into the plaster mold. This is then immersed into a bath to be cooled and then broken. Finally, the craftsman removes the raw gold jewel which will be reworked (cut, filed and adjusted …)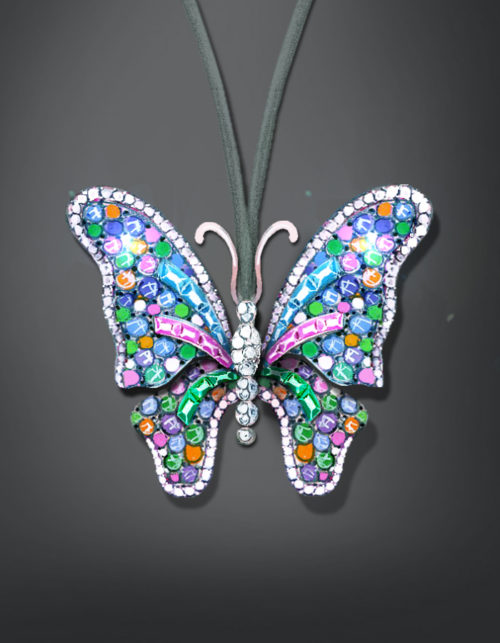 6- The stone.s selected for your future jewel can now be set in several ways: bezel-set, prong-set, rail-set, grain-set, etc. Each setting adapts to the shape of the stone as well as to the design of the jewel so that the rendering is as aesthetic as possible.
7-Polishing is the last step in the creation of the piece of jewelry in order to make it smooth and shiny. To achieve this, the polisher has many tools available depending on the part and the type of metal. Finally, the jewel can be immersed in an ultrasonic bath to remove any last traces and make the stones as shiny as possible.
8- Hand delivery of the finished part.
Once the creation of the piece of jewelry is complete, delivery is done by hand directly at Benjamin Mizrahi's workshop.
The engagement ring is the perfect example of a tailor-made, unique creation that will accompany you for the rest of your life.
Making a unique, tailor-made piece of jewelry requires highly precise know-how and the skills of craftsmen who are experts in their field.
Why choose a bespoke engagement ring?
A marriage proposal is one of the happiest moments in your life, and it requires the perfect diamond ring. The engagement ring is the most important piece of jewelry a man will have to choose in his life.
Benjamin Mizrahi combines your desires and ideas with our expertise to create the bespoke engagement ring. He will make a unique piece of jewelry with one or more diamonds that will add the expected sparkle to your marriage proposal.
Regarding the ring design, you can submit a completed sketch, image, photo / photos of an existing design to us or choose to combine various criteria of our engagement rings. You can also have a look at the photos of our previous creations online directly on our website. We then examine the feasibility of the project, the setting, the materials chosen as well as the precious stones. The result of this tailor-made manufacturing process, is a unique, timeless and breathtaking ring.
Why choose tailor-made wedding rings?
Eternity wedding rings and rings have a very strong symbolism that will accompany you throughout your life. Since each marriage is unique, your wedding rings should also
reflect the uniqueness of your relationship.
On your wedding day, you will be the center of all attention, and during the ceremony, the exchange of rings will symbolize your commitment to the person you love most.
Your relationship is unique and your wedding-ring must reflect your relationship: tailor-made and of high quality.
As part of this celebration, you have two options: you can choose classic wedding rings, set with diamonds, or have tailor-made wedding rings, designed according to your wishes.
We recommend that you have your wedding rings personalized. Indeed, alliances must be unique creations, intended to represent your love, your mutual aspirations and the memories of that extraordinary day when you said yes.
Whether the ring is classic or original, each wedding ring we make is designed to represent you as a person but also as a couple.
Why choose a tailor-made everyday jewel?
Less symbolic than an engagement ring or an alliance, but can give you just as much pleasure, the everyday jewel (ring, earring, necklace, bracelet, pendant) accompanies you throughout your day and highlights you.
What could be better than owning a piece of jewelry that sets you apart and matches your personality! Do not hesitate to discover all the photos of our creations directly on our website: 18-carats white gold earrings set with several sapphires, 18-carats white gold ring set with an unheated ruby, Tennis bracelets in gold 18-carat rose set with 57 black diamonds or an 18-carat white gold pendant set with amethyst and 70 white diamonds; you will have many choices to inspire you in the creation of tailor-made jewelry.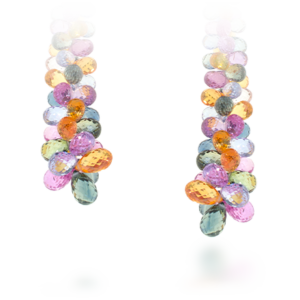 So, whether you are located in Geneva, Lyon, Paris (or anywhere in the world!) do not hesitate to go to Benjamin Mizrahi's office. Benjamin will be at your disposal to listen to you, make quality jewelry (necklaces, bracelets, ring, pendant with or without diamonds) and  bring your idea to life!
Discover our other services