Kunzite
Semi-precious stone of spirituality par excellence, kunzite can take on pink or light green hues (in this case, it is called "hiddenite"). Easier to find than in the past, due to the development of mining mines, it is now possible to have a custom jewel created with a kunzite stone. Find out everything you need to know about this crystal before making your choice.
Kunzite: general data
With its soft and soft hues, kunzite seduces lovers of delicate adornments. Having very interesting virtues in lithotherapy, it is endowed with a beautiful spiritual dimension associated with feelings and purity.
So many assets that make it a very popular stone in jewelry.
Kunzite or hiddenite?
Kunzite is a crystal of the silicate family; therefore, aluminum silicate and lithium are mainly used in its composition. The concentration of each stone in metal oxides varies the hue of the mineral: pink, green, yellow, lilac or translucent. Aesthetically very close to rose quartz, kunzite has a high level of manganese – this element makes its colors vary from sustained pink to light pink – and has the appearance of a striated, transparent, sometimes translucent crystal. Natural kunzite stone can have any size.
Pink lilac varieties are called by the generic name "kunzite", as for crystals with greenish hues, they are called "hiddenites". Charles Baskerville, an illustrious American professor and researcher in chemistry named the gem after the discovery of the latter by the mineralogist Georges Frédéric Kunz in 1902 in the Pala mine in California (USA).
What are the different types of kunzite?
As such, there are several varieties of kunzite, depending on their shades:
Clear kunzite, very close to transparent quartz. It has impurities visible to the naked eye;
Yellow kunzite, which can sometimes turn green;
The lilac kunzite, of a deep pink. It can be translucent in light.
Mineralogically, kunzite is a rare species, which belongs to the category of spodumenes and its crystalline system is called "monoclinic". This means that the structure of the kunzite naturally has an axis of symmetry and once cut into a gem, it can take the form of a parallelepiped with equal faces 2 to 2. Very close to quartz, kunzite is sensitive to contact with heat, which deteriorates the mineral by reducing its variations and hues. Exposed to the sun's rays, it loses its colors and becomes difficult to chisel.
How hard is kunzite?
Its hardness is classified between 6 and 7 on the Mohns scale; the diamond, being the hardest crystal, is ranked at 10.
This characteristic makes it a sometimes-complex gemstone to cut in jewelry.
Kunzite history
However, since the middle of the 20th century, kunzite has been shown in the largest jewelry stores, often known as Californian Iris because of its origin. Georges Frédéric Kunz, who worked as a gemologist for the famous American jeweler Tiffany & Co, was the first to market kunzite in its precious gem form.
He created a ring decorated with a 47-carat kunzite stone surrounded by diamonds, which President Kennedy gave to his wife Jacqueline for Christmas 1963, sometime before her death. The kunzite stone has been discovered by the general public further to the sale of the famous jewel at Sotheby's and the jewelers discovered that it could match perfectly well with silver. Soft gem, it can take all forms: round oval, shiny, cushion, etc.
What is the price of AAA-quality kunzite?
Kunzite is found in soils rich in lithium, so there is no known deposit in France. The main kunzite deposit is currently located in Brazil, in Gérais precisely. However, high-quality crystals are found in Pakistan, Afghanistan, Canada, Burma, the USA and Madagascar. The kunzite from Brazil is among the most sought after in the market. Naturally, the Pala mine in California provides exceptional examples, highly appreciated by collectors.
Kunzite as a precious stone can cost a certain price, especially in the presence of an AAA-rated kunzite stone. Once mounted in gemstone, the price of a kunzite is calculated by weight. In jewelry, it is expressed in carats. A carat corresponds to 0.2 grams and, for kunzite, it is exchanged around 9.6 CHF per carat.
Thus, a AAA kunzite bracelet can cost up to 962 CHF. For example, Jackie O's ring was estimated at the time of his succession in 1996 at $400,000 (approximately CHF 386,182).
However, be careful to have a stone authenticated before acquiring it, because of the many frauds. Kunzite can sometimes resemble tourmaline or rose quartz, so it is crucial to ask a specialist to authenticate the crystal.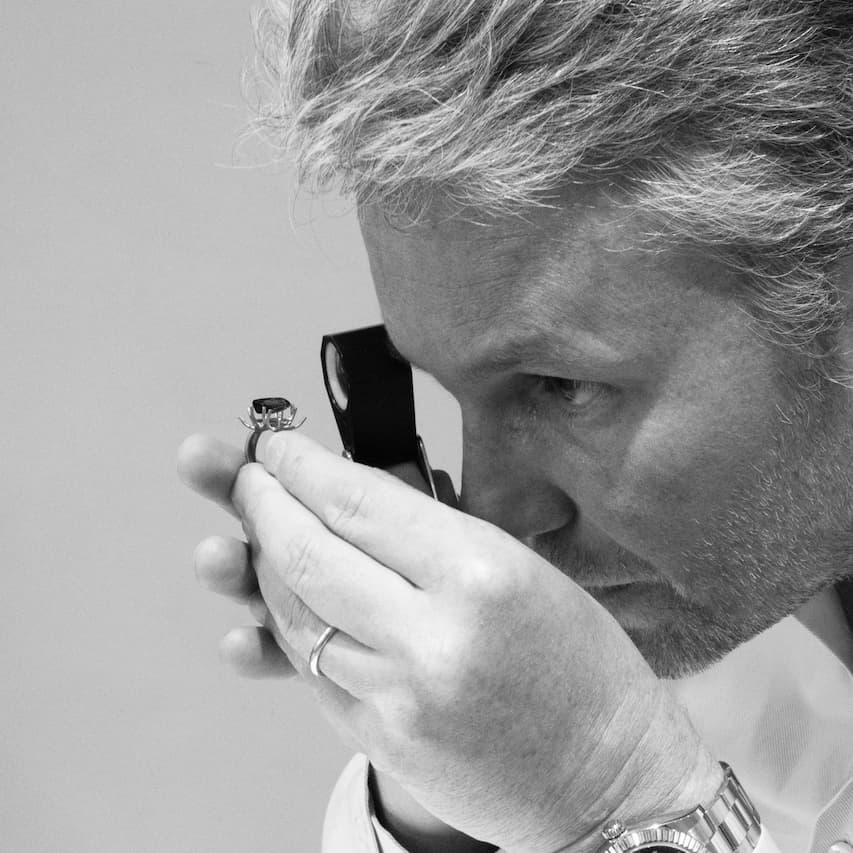 Kunzite crystal: the virtues in lithotherapy
Kunzite is the stone of spirituality par excellence, its pink hues associate it with the heart chakra, the 4th chakra. It is perfectly suited to the astrological signs of Gemini and Capricorn, but can be carried by all the other signs of the zodiac. It is a protective stone, which acts on individuals and their environment, whatever its size or shape: natural stone, rolled pearls, pendant, etc.
In lithotherapy, the Kunzite is considered to have a unique and very high vibration, which awakens the heart and arouses unconditional love, which generates affectionate thoughts and good communication in its bearer. It therefore encourages personal expression and offers the opportunity to freely communicate one's feelings. Kunzite thus reduces unwanted emotional residue and, as such, eliminates depression and melancholic states.
Worn as a pendant and cut in oval, it is very effective to keep electromagnetic radiation away. Its effect is the same if it is glued like a natural stone on a mobile phone or household appliance equipment. As a healing stone, it strengthens the respiratory system and heart muscle, calms epilepsy and stimulates the immune system. The properties and virtues of kunzite make it an excellent shield against stress and as such, it helps to reduce panic attacks.
As a silicate crystal, it contains lithium, beneficial for reducing depressive and psychiatric disorders. Kunzite is ideal for children, who get emotional support and strengthening of the heart chakra. For children and teenagers, wearing a bracelet of kunzite-wrapped stones helps them to calm down, but also to focus better and gain more self-confidence.
To benefit from all the virtues of the kunzite in lithotherapy, it must be placed in contact with the body, according to the needs either in necklace, pendant, bracelet, ring or even in earrings. It releases all its beneficial properties in combination with a tiger eye bracelet or a moonstone. In this case, it can be worn as a rolled stone bracelet, as a necklace of various stone balls or worn as a natural stone pendant. It increases its soothing properties tenfold when worn with a bright orange carnelian stone or coral. In this case, it is advisable to wear a bracelet of kunzite and carnelian rolled stones to which you can add onyx beads.
As for hiddenite – green kunzite -, it connects to other worlds and is a powerful ally to meditation. It supports new beginnings and also contributes to the freedom of feelings.
How to maintain, clean your kunzite stone?
To recharge your kunzite, lithotherapists recommend placing it on a rock crystal cluster, but be careful not to expose it directly to the sun's rays. The recharging of a natural AAA kunzite takes place under the full moon after being washed with demineralized water.
It is crucial to keep a jewel with a kunzite gemstone in a closed box, protected from the sun's rays, but also from humidity. Jewelers recommend keeping one's kunzite stones in a container, alone, so that they do not get damaged in contact with crystals of a higher hardness. The perfect place to be stored is a closed pouch. It is also important to regularly maintain and clean a silver jewel with a kunzite gemstone, in order to preserve its brilliance. To achieve this, clean your jewel with warm water, a drop of dishwashing liquid and a small soft brush. Then rinse the stone with clean water and dry it with a soft cloth. Beware of hard water, which favors deposits on the gem and stains the aesthetics of the stone.
BenGems proposes to set precious stone jewels out of tailor-made kunzite: necklaces, silver rings, bracelets of rolled stones or pendants. We can also help you have your crystal authenticated or acquire a AAA certified kunzite stone.