History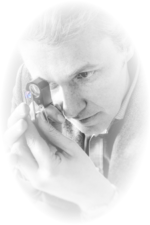 The story of a passion...
Above all, BenGems is the story born out of a passion for precious stones. Benjamin Mizrahi, the founder and president of BenGems SA, has boundless admiration for these treasures offered by nature.
Indeed, from a young age, Benjamin has been captivated by precious stones.
In 2001, graduated from HRD (Hoge Raad Voor Diamant) in Antwerp, – Certified diamond Grader, Gemmologist, Rough Diamonds – Benjamin decided to offer his services to the greatest watchmakers and jewellers in Geneva. Thus, with the most prestigious designers, he discovered a universe where beauty, quality and expertise are intimately and rigorously linked. He has then decided to transform precious stones into unique jewellery creations.
Thanks to his professional experience and always driven by his passion, Benjamin decided to launch his own company: BenGems SA was born on June 6, 2011.
Ever since, BenGems has strived for excellence in bespoke work to satisfy its customers who have his full attention.
Be unique, Be different !